Jeremy Whitton Salter (GSL and Group President)
30th August 1941 - 25th May 2015
Jeremy ('Jem') Salter was actively involved in scouting as an adult since 1959 and first held a warranted appointment in 1960, then held warranted roles continuously until 1989, since which time his positions were on the lay side but Jem has probably been no less active for that.

Jem has given a lifetime of dedicated and selfless service to scouting. Primarily this has been to the 1st Claygate Group, which he joined in March 1970 as Group Scout Leader, at the invitation of Tom Barnfield, who had led the group until that time. As Group Scout Leader, Jem's strength was in recruiting and supporting the section leaders. In the early years of his tenure the cub pack split into two, and then three, and the troop divided as well, enabling many more boys to participate. None would have been possible without all those leaders and helpers to run the sections and provide other background support. Jem also led the reinstating of the Group Show every three years. The headquarters (then in Station Road) was extended to accommodate the meetings and storage of extra equipment. Then, having been a highly active and respected Group Scout Leader for 15 years, he stepped down in 1985.

From 1984 Jem continued as an Assistant Scout Leader. The troop was hard pressed at this time for leaders and Jem's experience was put to good use on a weekly basis at regular meetings and other activities such as summer camp. Being closer in many ways to the troop as an ASL Jem was able to subtly but effectively use his skills and knowledge to ensure a new Scout Leader was in position with a team of adult helpers and assistants with numbers so large that the troop was split in two and run on two separate evenings.

Having helped secure the stability of the troop Jem stood down as ASL in 1989 and put his accountancy skills to good use by becoming Group Treasurer between 1989 and 1993. 1st Claygate Group had become one of the biggest in the County if not the UK and as such its financial affairs were weighty. Jem's financial stewardship kept the group on a sound footing which continues to this day.

Probably Jem's most significant contribution was still to come as in 1993 he accepted the role of Group President. In many groups this is just a sinecure to acknowledge past service and keep an ex-leader involved but has little or no responsibility. In Jem's case this was far from the truth.

At about this time the group was all too aware that its current headquarters which it had occupied since 1960 had outlived their useful purpose. Jem became one of the driving forces behind the project to either secure funds to rebuild on the existing site or acquire a new premises elsewhere in Claygate. When it became clear that rebuilding on the present site was too expensive and impractical Jem was a key person in obtaining an alternative site. The fruition of this project took place in late 2005 when a new building purpose-built to the group's requirements was completed. The new headquarters was opened in March 2006. Jem's role in this cannot be emphasised enough. As well as chairing the Project Team Jem was a lynchpin in the negotiations with developers, contractors, councillors (at three levels - Parish, Borough and County), local residents and other community organisations. Jem already had enormous respect locally but his dedication to this project enhanced it. He dealt with all parties with tact, firmness where required, one might even suggest in a professional way to ensure that what was delivered was on time, met all the group's needs, kept within appropriate financial constraints and was worthy of scouting and the community.

Quite simply Jem gave 12+ years of his life to this project and without him there could be doubts about whether it would have happened. Having devoted so much energy, time and skill might have been enough but Jem continued to be active in many other ways at the same time. Jem regularly participated in fund raising events on the organisational side, in Scouts' Owns, at camps, skills events i.e. with young people. He was also a stalwart member of the Group's 'crew' which regularly provided assistance at District and County events e.g. parades, camps. Jem quite happily turned out to drive the minibus, pick up jumble, take kit to camp and many other unsung roles. Jem's significant contribution to scouting, particularly in Claygate, was acknowledged by the award of the Silver Acorn for specially distinguished services and was further recognised with the award of scouting's highest honour, the Silver Wolf for services of an exceptional nature, the personal award of the Chief Scout. It is worth noting that during this time Jem was diagnosed and successfully treated for cancer, though it returned with a vengeance and it was a fight he finally succumbed to on the 25th May 2016.

(A tribute delivered at the Group AGM on the 4th July 2015 - HG)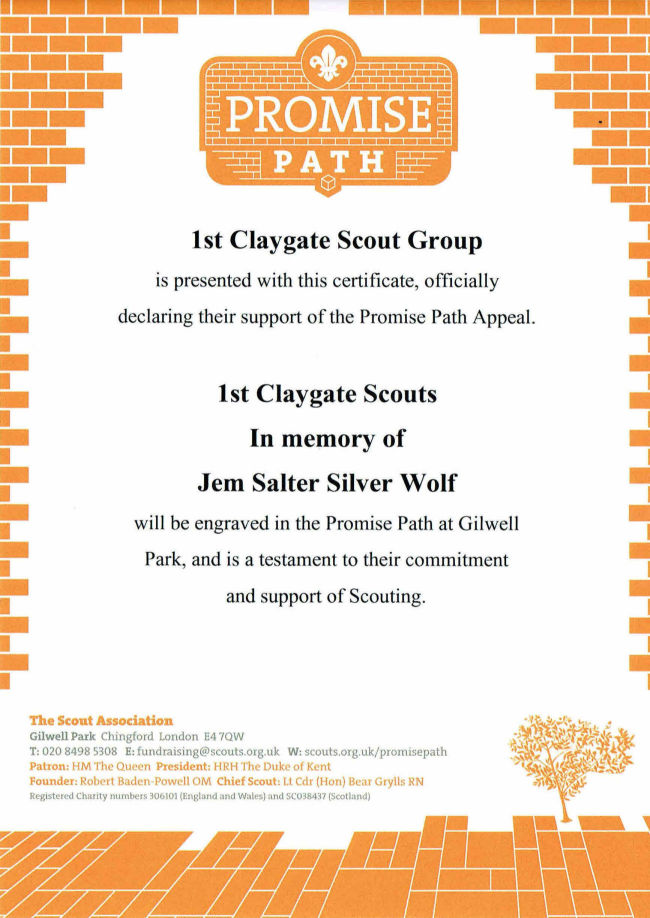 The Promise Path will trail through Gilwell Park, creating a lasting memory and build a brighter future for Scouting.
Mary Haskell (Akela of Panthers 1975 - 1993)
3rd September 1928 - 29th August 2014
Her Scouting Story....

On 9th February 1972 Mary joined the Scout movement and was invested as a Leader in the Panther Cub Scout pack of 1st Claygate Scout Group. The background to this was that their son Stephen was on the waiting list to become a Cub Scout and there were insufficient spaces for him and other lads; a new – a third – cub pack needed to be formed. To provide sufficient adult help for this pack an appeal to the parents of the twelve new boys was made and, with no hesitation, Mary and one other mum (Eileen Lacey) volunteered.

During the next three years Mary learnt the rules of Scouting and what was required for the care and safety of the thirty-six 8 to 11 year olds in her and the other two leaders care. In 1975 the initial leader of the Panther pack retired and Mary was asked to take over. She led the pack in an excellent manner for the next eighteen years until her own retirement in 1993. Throughout this time she showed a wonderful love for all the youngsters for whom she was responsible and provided an exciting programme appropriate to the season – a programme which included skill training, games, and outdoor visits to London and elsewhere. The Panthers participated in activities organised within the Claygate Group such as monthly Church Parades, camps and Gang Shows(*) at the Village Hall and at the wider District level of a variety of competitions.

A speciality which Mary brought to her Pack was swimming which required her giving up yet another evening every week as she filled her car with enthusiastic youngsters and headed off for the pool at Ruxley Towers.

In 1984 Mary received the Chief Scouts Commendation for Good Services which was an indication of how she was regarded at the higher echelons of the Scouting organisation. Shortly before her retirement she received the coveted Medal of Merit from the Chief Scout which was presented to her by the District Commissioner. Scouting leaders, parents and others who had anything to do with the Panthers realised that Mary was responsible for one of the happiest Packs they knew; the memories which former Panthers have carried into adulthood can only be something of conjecture but without people like Mary we know our world would be a poorer place. She achieved success for her boys if it was important but supported their indifference to success if it eluded them.

Mary was also involved with the first Norwegian return camp to Staverton in Devon. (*) On a lighter note, she well supported the Group shows 100% as well, taking part in them as Judy (Mr. Punch's wife), a Russian ballet dancer in tootoo, Egyptian Sand dancer, Henry V111's last wife, and others. The fun side of Mary's involvement in the Group.

(A tribute delivered at the funeral service on the 11th September 2014 - JWS/JB)
Joan Audrey Brain (Akela of "Tigers 1971 - 1977)
8th February 1930 - 4th June 2012
Born and brought up with her three sisters in Norbiton, Joan's schooldays were cut short by the onset of tuberculosis, and she was sent away for a lengthy spell to a sanatorium for treatment. Returning home she met, later to be her husband, Ron who was also not having the best of life in struggling to find employment after discharge from the Army and they were married at St. Peters Church, Norbiton on 23rd September, 1950.

Post-war employment was not easy for Ron, and Joan had to contend with his various changes of job and the shortfall in the family budget at times thanks to his gruff, but 'centre-stump' generosity to others in need. When their two boys (Graham and Malcolm) were old enough for her not to be permanently tied to home, Joan took a job as a Playground and School Meals Assistant at Claygate Primary School in Elm Road, moving with it on relocation to The Firs in Foley Road Claygate.

Ron having served his apprenticeship in Scouting as a Wolf Cub, Scout and Rover in 1st and 3rd Molesey Groups, it was perhaps inevitable that when the boys were old enough to join 1st Claygate Group as Cubs, he should sign on with the legendary Tom Barnfield as Assistant Scoutmaster, with Joan following a year later in 1967 as Assistant Cubmaster to Miss Dorothy Barnfield. With the expansion of the Group under the new Group Scout Leader, Jem Salter, Ron was promoted to Scout Leader and on 30th January 1971 Joan was appointed Akela of the new pack, Tigers. During the period of her leadership there were many new challenges for the cubs in 1st Claygate – camping (never previously allowed for Cubs), participation in Group Shows, working together as three packs (Panthers was formed in March 1972) and many other activities; Joan took them all on with great success and with no fuss. In company with Ron, Joan retired from service with 1st Claygate in 1977 a retirement which was to be somewhat short lived. Responding to the District Commissioner's appeal for experienced adults to come to the aid of 2 ailing Groups, Joan took up a further appointment in 1979 as Cub Scout Leader at 2nd Esher Group, handing over to a younger successor 5 years later. In recognition of her outstanding service to Scouting Joan was awarded the Medal of Merit in 1984, and together with Ron, accorded the rare appointment as an Honorary Scouter of The Scout Association in 1986.

Supportive always of her family at home, and in later years as it widened to include the grandchildren and great grandchildren, perhaps one of her proudest moments was the occasion in 1977 to celebrate Malcolm joining Graham as a Queens' Scout, depicted for the rest of time by the photograph over the mantle-piece of the four of them together in uniform on Claygate Recreation Ground. Sad though this occasion must be, it is also a celebration of old fashioned good neighbourliness, whether you came from across the road, down the road, round the corner, or further afield, and which is so characteristic of your part of our village.

(extracted from the tribute delivered at the service of thanksgiving on the 22nd June 2012 - CWS/JWS)
Eileen Alice (Baloo Panthers) Lacey
12th June 1928 - 11th August 2010
A larger than life character – an Assistant Cub Scout leader and a double act with Mary Haskell for many years with Panthers for someone who until shortly before recent events led everyone to believe she was still only 29!

Baloo always wanted to provide the cubs at camp of best food which included roast dinners on Pack Holidays and worked tirelessly to provide good quality scouting and some common sense to the cubs in her charge. Eileen regarded her job as "looking after the boys". She did this throughout her service and proved herself to be the finest Baloo an Akela could ever wish to have at her elbow.

She was always up for Group Shows making items for her cubs and involved with the sketches in the Gang Shows. "Walkies" based on the Barbara Woodhouse theme; A clippie (Bus conductor) in Little Black bag and of course as the "Dutch lass from Holland, I'm Anne of Cleves" in suitable clogs and yellow pigtails in the Henry VIII visit to the waxworks. We must never forget also her contribution to Jumble Sales with the "Good as new" rail of smart dresses, suits, coats which hopefully would make a bit more than the usual ones on the tables.

We have been very fortunate to have had such a fun filled happy leader with our cubs who will not be forgotten by many cubs and others around the group.
Linda Doreen Antell (Akela Jaguar's)
26th August 1943 - 20th May 2010
Linda first joined 1st Claygate in 1974 but due to moving overseas with the family did not settle back again until after a period in Bolivia. Her scouting though had commenced much earlier when she was 17 and based in St. Albans Hertfordshire. Even while abroad the scouting connection continued with leader appointments and in fact she had continuous Scouting service from her original appointment through to her retirement, through illness, in 1997.

While in Claygate Linda had appointments of: Cub Scout Leader, District Cub Scout Leader and Akela and in 1995 was awarded the Scout Association Medal of Merit in recognition of outstanding service to the Movement.

For most of Linda's active years with 1st Claygate there were three Cub Packs. During that time they were the Lions, the Panthers and the Jaguars and in 1983 Linda was appointed Akela of Jaguar Pack. She brought with her the skills and attitudes from her upbringing within her Scouting family and, additionally, over 20 years of experience with other Cub Packs, particularly in basic Cub camping skills, still quite new to Claygate at that time. New to her, however, were the challenges created for her and her Pack by the Group Shows but she was not phased by the experience and there are many who recall Jaguar's contribution to the show in "Pedro the Fisherman" and then a home-grown production where the "Mum" dressers had a field-day turning their sons into bugs for a sketch about computer viruses. Linda's own performance as Katherine of Aragon in Henry VIII demonstrated the example required of a leader who knew Scouting as a game – a serious game but a game all the same!

Linda's legacy to Scouting is not just her children and grandchildren – however impressive they indeed are – but also hundreds of her former Cubs who will have grown up with memories of their Akela – a lady of high distinction and a life-long belief in the Scout Promise and Law. Her health robbed Scouting of her active involvement but she continued as secretary of the District Cub Scout Leader's meeting for a number of years and, even when bed-ridden she continued to give support to Scouting through her family in whatever way she could. Thanks, Linda – we owe you so much.

(extracted from the eulogy delivered at the Thanksgiving and Celebration of her life at Holy Trinity Church Claygate on the 1st June 2010)
Ken Mallery (Deputy Group Scout Leader)
- to 28th December 2008
Ken Mallery who gave valuable service as an active supporter and Supporters' Chairman of 1st Claygate sadly died on the 28th December 2008. He had been suffering from Alzheimer's disease for over two years and at the time of his death was in hospital following a fall and had contracted pneumonia. His funeral was to take place on 23rd January 2009 at Beckenham Kent.

After his time helping on the supporters' activities of the Group Ken rejoined the uniformed side in 1972 when he was appointed Deputy Group Scout Leader of 1st Claygate. His particular role was the setting up of Group-wide activities and the annual Group Activity Weekend and is probably the legacy of which he would be most proud. He was also co-producer of the 1975, 1977 and 1979 Group Shows when his experience as a Rover Scout in Wimbledon was invaluable. Ken subsequently accepted the responsibility of District Venture Scout Leader where he worked closely with the Assistant District Commissioner, John Wright.

JWS